Yuchen Zhou's research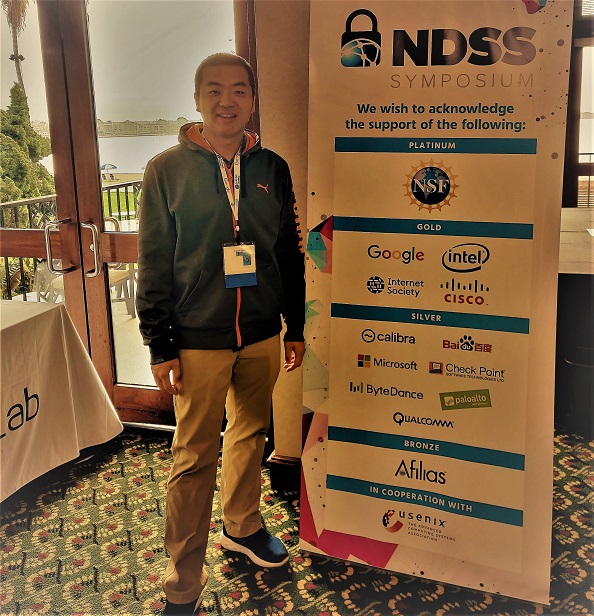 Yuchen representing Palo Alto Networks (silver sponsor) at NDSS 2020
This is Yuchen Zhou. I currently work as an SWE in Facebook's integrity team since June 2020. My primary job is to fight against URL abuse (e.g. malicious/phishing/spam URLs) on Facebook/Instagram/Messenger platforms.
I previously (2015 - 2020) worked at Palo Alto Networks as a research team manager (2019-2020) principal security researcher (2018-2019) senior web security researcher (2016-2018) web security researcher (2015-2016). During my five happy years at Palo Alto Networks, I had the luck and privilige working with a group of super-bright colleagues e.g. Wei Xu (PSU PhD) and Dr. Jun "Javier" Wang (PSU PhD). I am also so proud to lead a talented team - Oleksii "Alex" Starov (Stony Brook PhD), Fang Liu (VT PhD), William "Billy" Melicher (CMU PhD), Peng Peng(VT MS), and Shresta Bellary Seetharam (UC Santa Cruz MS) to build impactful products/projects and publish practicality-focused security research papers. You can find details of select published projects on the left side, or scroll down the page for a brief introduction on each project.
Even though I left Palo Alto Networks, I still think very highly of the Palo Alto Networks security research teams and if you are a graduating PhD student looking for an industry job, definitely consider PAN and contact me or my colleagues listed above or below for referrals. Your job duty will consist of anywhere from 20%-50% research depending on your background and interest.
Highly recommended teams and their leads (accurate as of June 2020):
Prior to my first job at Palo Alto Networks, I earned my Doctoral degree at University of Virginia, under advisor Prof. Dave Evans, with dissertation titled: Improving Security and Privacy of Integrated Web Applications. Most of my Ph.D work are focused on improving the security and privacy of web application/third-party service. My internship mentor at Microsoft Research is Dr. Shuo Chen. I have so far published five first-author papers, four of which in top-tier conferences such as IEEE S&P (Oakland) and USENIX.
Prof. Dave Evans is a super nice professor and I highly recommend you checking his works out, and consider him as your PhD advisor if you are thinking about getting a PhD in security. His most recent research areas include adversarial machine learning (Dr. Weilin Xu), differential privacy (Bargav Jayaraman), secure computation (Yan Huang, Samee Zahur), web security (myself), among other topics.